---
Why nurses learn Transcendental Meditation
The TM technique has been chosen by the American Nurses Association\California as one of five "best fit" solutions for nurses' mental health and well-being.
Stress and fatigue damage our work life as well as our personal life. Nurse fatigue and burnout prevent us from enjoying more success, energy and happiness.
The TM program is a must for nurses. Over 435 independent, peer-reviewed studies verify that the technique relieves stress, promotes inner peace and increases focus and happiness. The research shows significant benefits not seen in studies on other meditation techniques.
---
What is TM?
The Transcendental Meditation technique is practiced daily, sitting comfortably with eyes closed. The TM practice is unique among meditation techniques—it's easy to learn, enjoyable to practice, requires no concentration or special skills, and produces profound, immediate results.
The TM technique involves neither religion nor philosophy nor change in lifestyle. Other meditation techniques keep the mind active on the surface level of thought, whereas TM allows you to effortlessly experience a state of restful alertness and deep physical relaxation.
Hospitals that have facilitated TM instruction for their nurses include:
Advocate Illinois Masonic—Chicago, IL
Akron General Hospital—Akron, OH
Capital Caring Hospice—Falls Church, VA
Childrens Hospital— Akron, OH
Cleveland Clinic—Vero Beach, FL
CHOP—Chalfont, PA
Doylestown Memorial Hospital—Doylestown, PA
Hunterdon Medical Center—Hunterdon, NJ
Kaiser Hospital—Portland, OR
Kaiser Hospital—San Diego, CA
Moffitt Cancer Center—Tampa, FL
Princeton Medical—Princeton, NJ
Rose Dominican Hospital—Las Vegas, NV
Sarasota Memorial Hospital—Sarasota, FL
Scripps Memorial Hospital—San Diego, CA
Tampa General Hospital—Tampa, FL
University of Iowa Hospital and College of Nursing—Iowa City, IA
---
How Nurses Benefit from TM
You can't pour from an empty cup. You started nursing filled with energy and enthusiasm, but the stress of nursing may now have reduced your resilience and compassion. In fact, statistics show that over 45 percent of hospital staff nurses experience nurse burnout, characterized by exhaustion, compassion fatigue, and physical and mental stress.
The Transcendental Meditation technique significantly reduces anxiety by shifting the nervous system into a calmer, more balanced, harmonious style of functioning that is the opposite of feeling stressed.
Chronic stress has a deleterious effect on the entire physiology, including the brain. The TM practice is associated with lower cortisol levels, and is the only meditation that shows increases in broadband intra and inter-hemispheric EEG coherence. Other beneficial effects of the TM technique include a reduction in high blood pressure after only a few weeks of regular practice, decreased risk of myocardial infarction and stroke, and normalization of components of the metabolic syndrome (including systolic blood pressure and insulin resistance).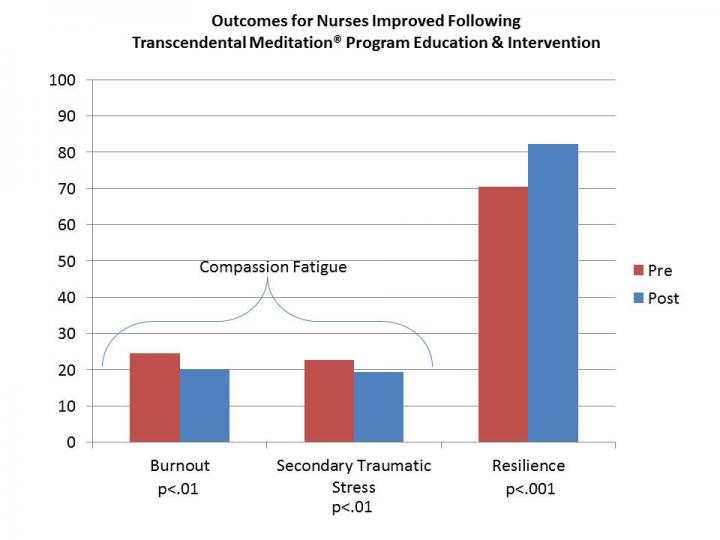 Happier Nurses, Healthier Patients
Researchers based at Sarasota Memorial Hospital found clear statistical evidence that the TM technique can increase resilience and compassion satisfaction among nurses while decreasing burnout and secondary traumatic stress. The results of this study were published in 2019 in the Journal for Nurses in Professional Development andpresented at conferences including the ANCC Magnet, the Florida Association of Nurse Executives, and the American Holistic Nurses Association.

Transcendental Meditation reduces compassion fatigue and improves resilience for nurses
The ANA's Healthy Nurse, Healthy Nation Campaign
TM for Nurses is proud to be partners with the American Nurses Association and the Healthy Nurse Healthy Nation campaign to bring about healthy changes in the nursing community. The Healthy Nurse Healthy Nation campaign encourages you to put your health first by concentrating on a holistic approach to wellness. The Transcendental Meditation technique should be a key component of that approach.
Published research on the benefits of the TM Program for nurses and nursing students:
Perkins J, Aquino-Russell C. (2017) Graduate nurses experience the sacred during Transcendental Meditation. International Journal for Human Caring 2017 32(4):163-171.
Bonamer JR, Aquino-Russell C. (2019) Self-care strategies for professional development: Transcendental Meditation reduces compassion fatigue and improves resilience for nurses. Journal for Nurses in Professional Development 2019 35(2):93-97. 
Perkins, J., & Aquino-Russell, C. (2021). Practicing transcendence in meditation speeds nurses' evolutionary development: Shining the light of "consciousness" through the lens of Unitary Human Caring Science. Visions: The Journal of Rogerian Nursing Science, 26(4), 1-27.
Aquino-Russell, C., Aldiabat, K., & Alsrayheen, E. (2023) Experiences of advanced standing program nursing students and instructors practicing Transcendental Meditation. American Journal of Qualitative Research, 2023, 7 (3), 32-48. https://doi.org/10.29333/ajqr/13239 © 2023 AJQR.
---
Endorsements from Nurses
"I had tried multiple meditation practices in the past for ongoing management of stress, anxiety and exhaustion—they had helped slightly. However, with TM I have experienced a simple ease to meditation that has made it sustainable and has allowed me to fully grasp the benefits of meditation practice. I was admittedly skeptical at the beginning and doubtful that I would find the 20 minutes twice daily, but I truly shocked myself! TM is so natural, there is no effort and I feel rejuvenated afterward. I look forward to my 20 minute sessions and a lifetime of benefits."
Scripps RN
"I learned TM last year and it has enhanced my life. My energy & creativity is higher. I also feel a steady state of calm. It's the most rewarding self-care habit I have learned!"
Barb Ferrari
RN, Personal Trainer
"TM has provided a sense of calm and allowed me to focus, prioritize, create time for myself, feel less stressed and overwhelmed, and be more patient—somehow increasing the time I have to accomplish what I need and want."
Christy Schmerer
RN
Ready to Learn Transcendental Meditation?