Oct 9, 2017
Why Hospitals Should Pay for Nurses to Learn TM
---
Nurses make life and death decisions almost daily, rotate shifts, and are under constant time pressure and staffing challenges. These can lead to stress and distress, burnout (30 – 49% of nurses report a level of stress and exhaustion sufficient to qualify as high burnout), a potential health crisis among nurses, resulting in an increase in absenteeism and turnover. All these factors create significant financial expense to hospitals.
The cost of training a nurse
The cost of training a nurse to step in for another nurse quitting is between $60-100,000 or, for a critical care nurse, as high as $300,000. (Burns and Hutchins, 1992, Messmer et al, 1995). In short, nurse burnout costs hospitals hundreds of thousands of dollars. Researchers have found that reduction in the burnout of nurses would reduce hospital losses dramatically.
The cost to hospitals for diminished quality of patient care
An August 2012 study published in American Journal for Infection Control links nurse burnout directly to patient health. When a nurse is exhausted and burned out, patients also suffer—infection rates increase. Researchers Cimiotti et al. concluded that the degree of burnout experienced by nurses directly influenced hand hygiene and the frequency of hospital acquired patient infections, particularly urinary tract and surgical site infections.
Further, the AJIC estimates that a reduction of catheter-associated urinary tract infections and surgical site infections could save $41 million if nurse burnout rates were reduced to even 10% from their current rate of 30%.
A cost saving program to benefit both nurses and hospitals
The Transcendental Meditation program is a low-cost intervention that could save nurses the jobs they love, and save hospitals hundreds of thousands of dollars per year. If even one nurse could avoid burnout with TM, the savings to the hospital would pay for the TM program for 60 nurses—an entire department!
There have been 390 studies and reviews of research on the Transcendental Meditation technique published in independent peer-reviewed journals or other edited scientific publications from 1970 to the present.
To reduce fatigue and burnout, nurses must not only have mental and physical rest, but must also build resilience. The TM technique is a proven way to reduce fatigue, build resilience, renew compassion and reconnect with the profession. Among many benefits, studies show that the TM technique: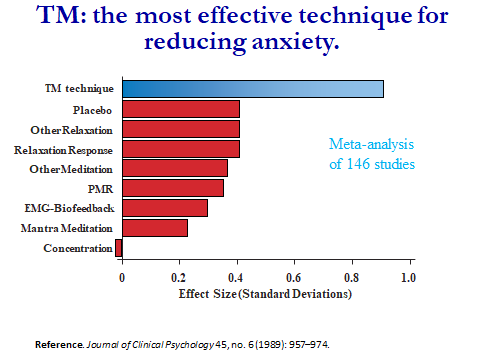 A pilot study at Sarasota Memorial Hospital with 24 nurses learning the TM technique showed statistical significance for reduction of burnout, improvement in compassion satisfaction, reduction in secondary traumatic stress and increased resilience (charts below). Nurses reported improved sleep, greater clarity of mind, greater efficiency in action, decreased depression and increased resilience.
A 2015 study published in International Archives of Nursing and Health Care showed that TM improves the mental health and spiritual wellbeing of caregivers, with decreases in perceived stress, mood disturbance—including anxiety, depression, anger, confusion and fatigue—and an increase in spiritual well-being.
If we could introduce the Transcendental Meditation program in every institution in society, from schools to the military, we would create the situation in which everyone's health would be improved, productivity and net worth increased, and the output to the whole society increased in value—there would be no downside.
---
Amy Ruff, RN BSN, is the national director of TM for Nurses in the United States.