Feb 26, 2022
What is a Nurse Worth?
---
According to a February 15th 2022 article in The New York Times, "Nurses have finally learned what they're worth." Both as an integral asset to our health system and as caring health professionals, nurses are invaluable. They are organized, efficient, compassionate healers.
Nurses are normally steadfast, governed by a heartfelt sense of duty—but now they are depleted and traumatized. Bedside nursing has always been a "burnout profession," but after two years of dealing with the challenges of a pandemic, many nurses now are moving out of nursing. "In a survey of critical-care nurses last year, 66 percent of respondents said they were considering retirement," according to the NY Times.
Due to large a staffing gap in hospitals, there is a national scramble for nurses. Many nurses are leaving their hospital positions to become traveling nurses. Where a nurse anchored to a hospital can earn $75,000 in a year; a traveler could make that in just a few months. All of this has led to a new paradigm in the way we value the work of those who care for others.
We will need hundreds of thousands of nurses going forward, but nurses won't settle for things as they were before the pandemic.
The New York Times states: "The problem will not be solved until hospitals start considering how to make bedside jobs more desirable." Hospitals must learn to take better care of their nurses' health, well-being and income.
A hospital's cost of bringing in and training one new nurse is between $60-$100,000 or, for a critical care nurse, as high as $300,000. It's not just the financial cost for the hospital that is an issue at this point but it's about saving our health-care system. Nurses are at the very heart of health care.
Nurses are being treated like worker bees, but, as the Florence Nightingale nurses' pledge says, "…we need nurses to continue to practice their profession faithfully; to do all in their power to maintain and elevate the standard of the profession; to devote themselves to the welfare of those committed to their care." We need to protect nurses so they are not at risk of losing their compassionate, healing nature through burnout, compassion fatigue and moral distress.
The Transcendental Meditation program is a low-cost intervention that could save nurses the jobs they love and save hospitals hundreds of thousands of dollars per year, and at the same time, protect our health-care system. The retention of even one nurse would provide a hospital savings that would pay for instruction in the TM program for 60 nurses—an entire department!
To reduce compassion fatigue and burnout, nurses must not only be rested and clear mentally and physically, but they must also build resilience to stress. The TM technique is a proven way to reduce stress and anxiety, build resilience, renew compassion and reconnect nurses with the profession they love. Among many benefits, published research studies show that the TM technique:
Provides deep rest
Reduces stress
Increases energy and stamina
Decreases anxiety and depression
Improves sleep
Improves communication and leadership skills
Increases focus, job satisfaction and career success
A pilot study at Sarasota Memorial Hospital with 24 nurses learning the TM technique showed statistical significance for reduction of burnout, improvement in compassion satisfaction, reduction in secondary traumatic stress and increased resilience (charts below). Nurses reported improved sleep, greater clarity of mind, greater efficiency in action, decreased depression and increased resilience.
A 2015 study published in International Archives of Nursing and Health Care showed that TM improves the mental health and spiritual wellbeing of caregivers, with decreases in perceived stress, mood disturbance—including anxiety, depression, anger, confusion and fatigue—and an increase in spiritual well-being and job satisfaction.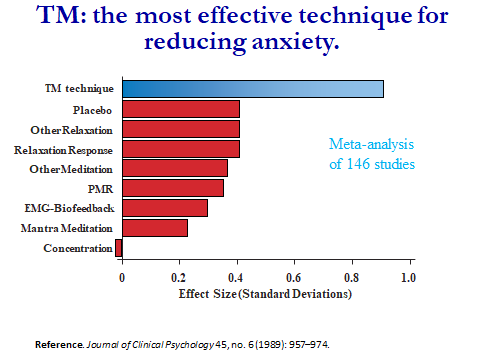 Introducing the Transcendental Meditation program to hospital nurses would improve their health and well-being, leading to increased productivity, job satisfaction, and improved retention rates benefiting the hospital—there would be no downside.
Help us bring this evidence-based program to nurses
---
Vanessa Vidal is the national director of TM for Women in the USA